Jeans are such a wardrobe staple that we assume it's easy to get a good pair. It's not always the case so here are our favourites from the Marisota denim collection.
Bootcut Jeans
Finding a good, basic pair of jeans is a lot trickier than you would expect, there are so many shapes, colours and styles that it can be difficult to decide where to start. A pair of bootcut jeans is always a good starting point, this style suits every body shape and will balance out a multitude of sins. Plus they're easy to pair with any kind of shoes.  This stylish pair of bootcut jeans is ideal for everyday wear; they're just £24.00 – £26.00 so a total bargain. They come in a wide range of colours, including bleach wash, blue/black, indigo, true black, vintage wash and white, so you can choose your favourite shade!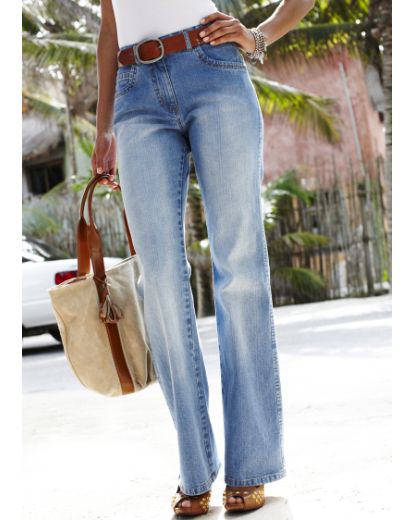 Going Out Jeans
It's nice to have a pair of jeans that are reserved for nights out, and we've got a couple of choices for you. We love these "Wow" jeans if you prefer a bootcut style. They're made to make you feel fantastic and have special features like specially shaped back pockets and a slimming control panel to the stomach. You can get them in short length (28″ here) and longer lengths (34″ here) too!
If you prefer to wear skinny jeans on a night out, then these zip hem jeans are ideal! Just add heels and your favourite tunic top for perfect night out glamour!
Wide Leg Jeans
Sometimes what you really need is a good pair of comfortable jeans, and they can still look just as stylish.  There are two types of wide leg jeans to choose from, simple wide-leg or a more casual slouch style.
These slouch leg jeans are perfect for summer. They feature a comfortable knitted waistband and relaxed style, so just add your favourite sandals for perfect casual style.
Alternatively, if you prefer a smarter, wide leg style then these gorgeous Farrah wide leg jeans are just the thing. They're perfect for wearing with wedges and a smart top for summer nights out! These come in a choice of black, charcoal or indigo, and in a range of lengths.
That's just a taster of our jeans range, if you want to see even more choice then take a look at our jeans shop. The perfect place to find you new "favourite pair" of jeans!
Jenny x