Jeans are the perfect day to night outfit choice – dark denim is extremely flattering and can look gorgeous with a variety of styles. We've chosen one of our favourite pairs of jeans and we'll show you how you can wear this pair from a casual pair of day time jeans to the perfect pair for an evening out.
The Simply Wow Tummy Tamer Jeans
If you're looking for a perfect silhouette, we're sure you'll just love this gorgeous pair of jeans. With a concealed toning panel, you'll achieve a visibly flatter tummy. Now lets have a look at how to wear these fab jeans for a laid back day look…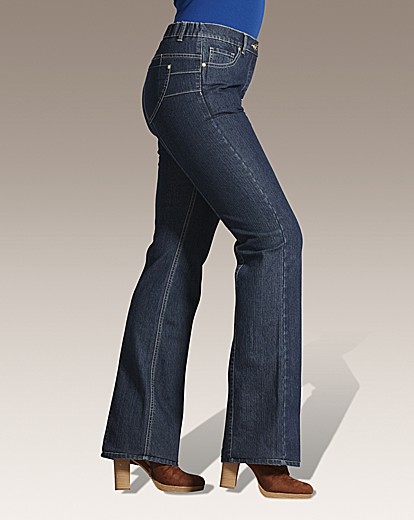 How to wear for the day:
Wear with a this stunning purple top from the Joanna Hope collection – this top has cut out sleeve detailing, however team it with a open knit black cardigan to give it that day time feel. Finish the look off with a casual pair of khaki flat shoes.
How to wear for the evening:
For a beautiful evening look simply remove the cardigan to show off the lovely cut out sleeves, change your shoes to a delicate pair of silver sandals (available in wide fittings), team with a silver clutch and add a glam pair of pendant earrings…
and there you go… you have two fab ways to wear the Simply Wow Tummy Tamer jeans